Well, about two weeks ago, my co-worker, who owns a Jeep, wanted to know if I was interested in selling my Hi-Lift. I said what? and also going through my mind...one side said "why can he not buy one himself?" and the other said "Cool, any excuse to get something newer!"....well my better judgment got the better of me.
.
.
.
.
.
I sold it to him for $40.
So now I needed to look into a new Hi-Lift.
First thing that came to my mind, the UBER-cool X-treme Hi-Lift (60-inch version).
Fast forward to today, I unboxed a very long and heavy item and inside.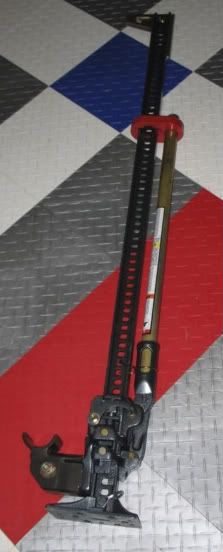 I relocated my WABFAB slider adapter onto the new jack.

I bought it w/ a new red handle holder for a little over $150 (includes shipping) from Poly Performance

My first Hi-Lift was mounted on my CBI Bumper with just two butterfly nuts.
I have been lucky that no one wanted to take my old Hi-Lift.
So I wanted to figure out how to lock it to the bumper (without buying anything new).

This what I did...
Original Hi-Lift Mount for my CBI Bumper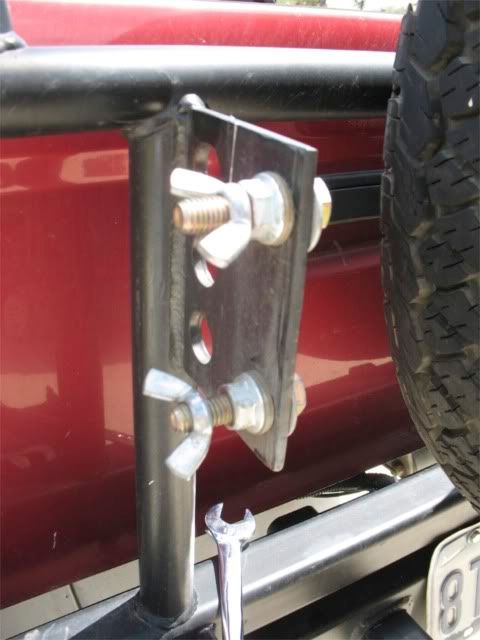 Drilled another hole, deburr and paint.
Used (2) 1/2-13 3-inch long Bolts and spacers that I had laying around.
And now the Hi-Lift X-treme is locked and loaded.
The new look for the rear.

Right now the bolt is held in place with the butterfly nut.
I think I will stop by JFAB's place to have him weld them into place.